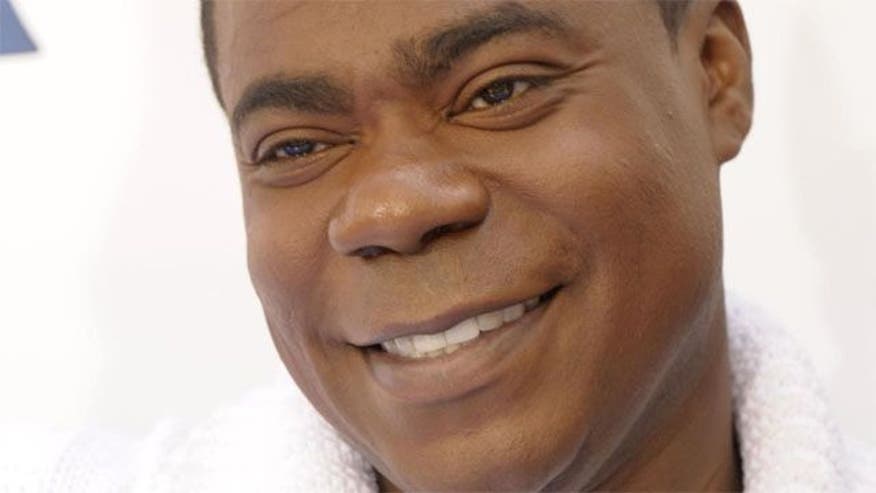 Actor and comedian Tracy Morgan faces several weeks in a New Jersey hospital after undergoing surgery on a broken leg suffered in a chain-reaction crash on the New Jersey Turnpike early Saturday that killed one man and left three critically injured, including Morgan. 
Morgan's spokesman, Lewis Kay, said Sunday that the "Saturday Night Live" and "30 Rock" star was "more responsive" after surgery, but remained in critical condition.
Kay said that Morgan sustained a broken femur, broken nose and several broken ribs. He did not give an exact timetable for Morgan's release from Robert Wood Johnson Hospital in New Brunswick, but added that Morgan's family is "tremendously overwhelmed and appreciative of the outpouring of love and support from his fans."
Meanwhile, police told ABC News that the Walmart truck driver charged in the accident was likely dozing moments before the collision. Kevin Roper, 35, of Jonesboro, Ga., was charged with with death by auto and four counts of assault by auto. Authorities say that Roper's truck smashed into the back of Morgan's chauffeured Mercedes limo bus after he swerved to avoid a crash in Cranbury Township, N.J. 
Roper, accompanied by his attorney, turned himself in to state police. He was released on $50,000 bail Saturday night and has been placed on administrative leave, Wal-Mart spokesman David Tovar said Sunday.
Wal-Mart President Bill Simon said in a statement that the company "will take full responsibility" if authorities determine its truck caused the accident.
The National Transportation Safety Board is working with state police to look at any issues in the crash related to commercial trucking and limousine safety.
One of Morgan's writers and mentors, James McNair, 63, of Peekskill, N.Y., was declared dead at the scene of the accident. Also critically injured were Morgan's assistant, Jeffrey Millea, 36, of Shelton, Connecticut, and comedian Ardie Fuqua Jr., 43, of Jersey City.
Morgan, 45, was returning to New York with a group of friends after a performance at the Dover Downs Hotel and Casino in Delaware.
Tyrone Gale, who was driving the limo bus, told ABC News that he was disoriented after the vehicle flipped over and could hear Morgan yelling for help.
"I climbed around and heard Tracy screaming for help," Gale said. "I climbed up on the body of the limo bus … but I couldn't reach them."
Fuqua's mother, Doris, said she visited him in the hospital Saturday. The writer-comedian had toured with Morgan for nearly a year, she said, and had opened for him Friday night.
"We're hoping for the best," Doris Fuqua said Sunday, adding that she didn't know how long he may be hospitalized. "It's too early to tell."
McNair, 62, of Peekskill, New York, was a close friend and mentor to Morgan, Morgan's ex-wife, Sabina Morgan, told the New York Daily News. "He was one of the first comedians that took Tracy under his wing," she said. "They were very close."
Royale Watkins, a Los Angeles-based comedian who said he had performed in New York clubs with Morgan and McNair, described McNair as having a big personality.
"There may be guys like Tracy who get the fame and notoriety, but you have people like Jimmy Mack who have kind of energized and fueled cats like Tracy and kept them going on the road," Watkins said.
Morgan, a New York City native, gained fame when he became a cast member of "Saturday Night Live" in 1996, and was on the sketch-comedy program for seven years before leaving to star in "The Tracy Morgan Show" in 2003. In 2006, Morgan found a long-running role on NBC's hit show "30 Rock," which was created by "SNL" co-star Tina Fey.
He received an Emmy nomination for best supporting actor for "30 Rock" in 2009.
Morgan grew up fatherless, one of five siblings, in a low-income neighborhood in Brooklyn, where he helped raise and support the family.
He once called his gift for being funny "a defense mechanism" for his miserable circumstances. As a teen, he started doing comedy on the streets to supplement the family's welfare income.
In recent years, he has struggled with alcoholism and been arrested on drunken driving charges. He had a successful kidney transplant in late 2010.  
Morgan's films include "Jay and Silent Bob Strike Back," "The Longest Yard," "First Sunday," "Rio," and "Why Stop Now."
The Associated Press contributed to this report.