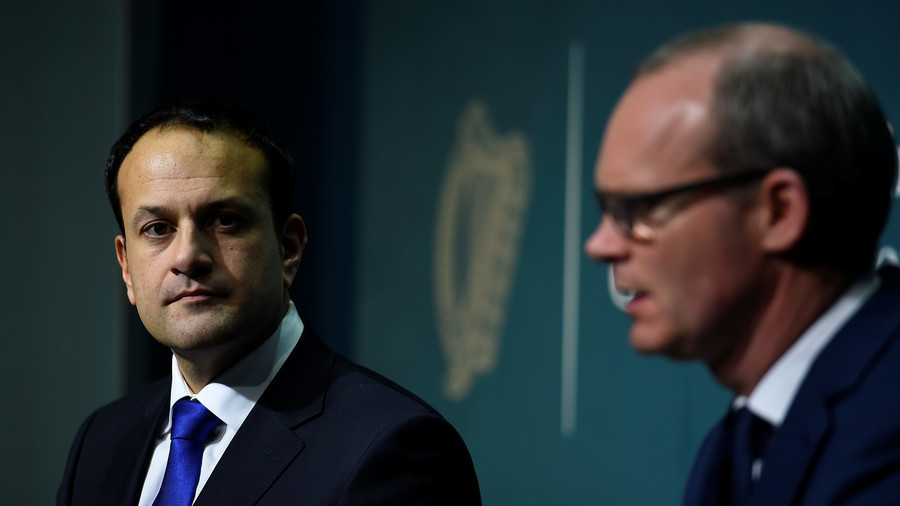 Irish deputy Prime Minister Simon Coveney today raised the prospect of Brexit being delayed as he insisted that Britain 'can't afford' to crash out of the EU.
Mr Coveney dismissed UK planning for no deal as 'bravado' – suggesting that Theresa May will have to make more concessions to Brussels. He also risked inflaming tensions with Mrs May by insisting Dublin would 'absolutely' back an extension to the Article 50 deadline of next March – something she has repeatedly ruled out.
The combative stance came as British and Irish ministers met to try to break the deadlock with less than 12 weeks until the effective deadline for getting an outline Brexit deal.
Officials are digging in for an attritional battle over the summer after Mrs May unveiled her Chequers proposals for future trade. They would see the UK obey a 'common rule book' with Brussels and collect some taxes on behalf of the bloc.
Speaking after the meeting of the UK and Irish government consultation body, Cabinet Office minister David Lidington said he did not expect the opportunity to fail .But he insisted preparations for a Brexit were being conducted with 'vim and vigour'.
He added: 'You have to put vim and vigour into it because you want to make sure that you have thought through all potential problems and you have got a contingency plan, which in that situation would work and deliver the best outcome in those circumstances.'
Mr Coveney said he was not paying much heed to the debate about no deal.'To to be honest with you, I think some of it is bravado,' he told BBC Radio 4's Today programme.'The truth is that I don't believe Britain can afford to have no deal on Brexit.'
Coveney reportedly spent an hour and 15 minutes with Hammond, who supports a soft Brexit involving continued access to the single market.
Ireland's foreign minister refused to be drawn on the talks but he told the audience that Ireland could play a "unique role" helping the EU to "understand the British mindset" in the coming months during Brexit negotiations. The EU would welcome a close and deep relationship with Britain, Coveney said, but not on the terms envisaged by Brexiters Johnson, Steve Baker and Jacob Rees-Mogg.
"If the UK were to request a very close relationship with the single market and customs union, I think the European Union would respond generously to that. But that isn't the current position," he said."The position is we're leaving the single market, we're leaving the customs union, we want to negotiate our own free trade agreements, and, of course, if that position is sustained, the European Union will respond accordingly and we'll end up with a classic free trade agreement."